Meh

e

ndi- Rang Lay

egi !!



Mehendi is yet another traditional yet exciting pre wedding ceremony. In India, a lot of emphasis is given on customs and rituals. Indian people are ardent lovers of beauty and elegance. This is what reflects in the Mehendi ceremony before marriage. Mehendi ceremony has been prevalent since ages and forms such an integral part of the wedding ceremony that it cannot be imagined without it. Furthermore, Mehendi is one of the sixteen adornments of the bride and her beauty is incomplete without it.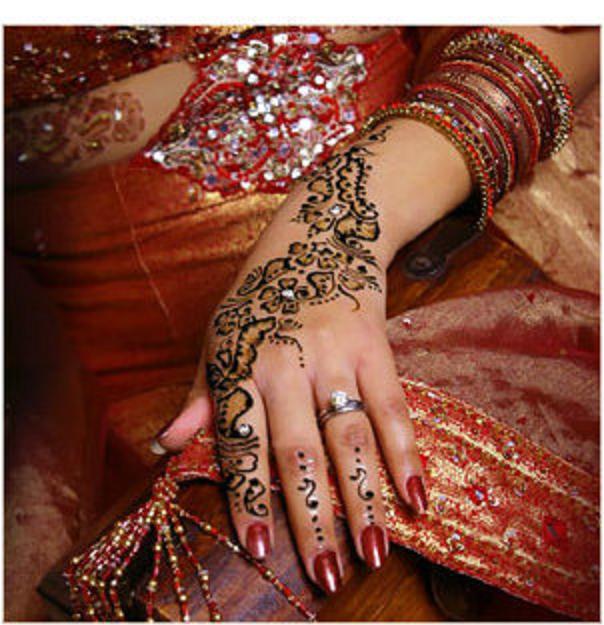 For applying Mehendi to the bride, a skilled Mehendi expert is called. He applies Mehendi on bride's hands, arms, feet and legs. Traditionally, the Mehendi applied to the bride was obtained by drying the leaves of the Henna plant. Nowadays there are various types of Mehendi designs available in the market.
Some of the popular Mehendi designs include Arabic Mehndi, Rajasthani Mehendi, Crystal Mehendi, Tattoo Mehendi, etc. Popular motifs of the bridal mehendi are conchshell, flowers, Kalash, peacock, doli and baraat patterns. The intricate motifs of the bridal henna also hide the husband's name. It is said that the husband's name in the intricate
henna motifs is made for the groom who has to find out his name in his bride's mehendi as an evidence of his sharp eyes and active brain to impress his girl.
Mehendi ceremony usually takes place just before marriage. According to the ritual, the bride does not step out of the house after this ceremony. Mehendi ceremony is essentially organized by the family of the bride and is usually a private affair which takes place in the presence of friends, relatives and family members. However, the scale of the ceremony depends upon individual choice. Some people celebrate it with great pomp and show. Sometimes, the Mehendi ceremony resembles another sangeet ceremony.
This also points towards the fact that Mehendi has become more of an accessory. However, no matter whatever might be its form, it is still an essential element of the bride. According to popular belief, the darker the color of the Mehendi, the more her husband will love her.
As a tradition, the bride is not allowed to work in her marital house till the time her Mehendi does not fade away. This ceremony is primarily a women function, which takes place amidst musical beats of Dholak, with women singing traditional songs for a prosperous marital life of the bride.
Happy Wedding!!
Love
Reshma
Image source indianweddingsite/ jaredwilsonphotography/ mehndichain/ .lynettej